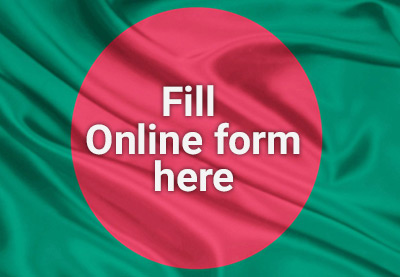 IMPORTANT
Beware of Touts / Agents and Fake Visa promises.
While filling forms – it is COMPULSORY to fill in stay address in Bangladesh.
Ensure you fill in correct form as per purpose of Visit.
Terms and Conditions & Privacy Policy
Instruction
Please read the terms and conditions carefully. By using this website, you acknowledge and agree to the terms and conditions below:
BdVisa
means Bdvisa LLC with its registered address at Plot No. 15 Infinium Digispace, 1st floor, CP Block, Sector V, Bidhannagar, Kolkata, West Bengal 700091
Affiliate
means a person, includes a natural person, corporate, organization, or unincorporated body who has completed the Affiliate application and successfully registered himself/ itself as bdvisa's Affiliate.
Bdvisa Website
means the Bdvisa's online website known as Bdvisa including its full desktop version website, phone version website and applications owned or operated by Bdvisa.
Loss
mentioned herein after includes but not limited to loss of profit, loss of production, loss of revenue, loss of contract and loss of claim.
Damages
mentioned hereinafter includes but not limited to direct, indirect, exemplary, incidental, special, compensatory, consequential or punitive damages.
Liability Disclaimer
In upholding our data protection and storage security, Bdvisa uses leading technologies and strict security standards to safeguard your personal data and to prevent unauthorised access.
However, Bdvisa does not guarantee the accuracy of any information, content or materials that are provided in Bdvisa Website. While every care is taken in the preparation of this website, Bdvisa is not responsible for any errors or omissions that may occur. All products and services are provided on "as is" basis without warranty of any kind, be it express or implied.
To the maximum extent allowed by law, user of Bdvisa Website shall use this website at user's own risk and he will be solely responsible for any loss or damages of any kind resulted from the usage of any information, content or materials published in this website or posted, emailed, transmitted via Bdvisa.
Any reference made by Bdvisa in this website to any company or any other entity, or to their services or products is not an endorsement nor should it imply any such endorsement of the quality or fitness of purpose of that company or entity, or its services or products. If services or products provided by any company or any other entity as referred in Bdvisa Website is faulty, unavailable or encounters any errors, Bdvisa will not be liable for any loss and damages in any manner.
Bdvisa disclaims all warranties and conditions that Bdvisa Website, its linked site or any other link contained in a linked site is free from viruses or any other harmful components and Bdvisa shall not be liable for any loss or damages incurred. It is for the user himself to ensure that any link chosen from this website or its linked site is free from such harmful items.
The links in this website will allow you to leave Bdvisa Website. The linked site is not under the control of Bdvisa and we are not responsible for the contents of any linked site or any link contained in a linked site, or any changes or updates to such sites. Bdvisa is only providing these links as a matter of convenience to the users and is not to be implied as an endorsement of the linked site.
Bdvisa shall not be liable for any loss or damages arising out of any breach committed by Bdvisa's Affiliate.
Force Majeure
In no event shall Bdvisa be liable for any breach, fault, or delay in performance of its obligations if it is attributable to any circumstances beyond the control of Bdvisa, including but not limited to hackers, riots, civil commotion, war, emergency, labour disputes, strikes, lockout, floods, changes in law, inability to obtain supplies and any Acts of God, regardless of whether the circumstances in issue is foreseeable.
Copyright
All editorial content, graphics and multimedia works on this site are protected by copyright laws and other laws and international treaties and belong to Bdvisa Sdn. Bhd. and/or its suppliers. These works, logos, graphics, sounds, or images may not be copied, reproduced or imitated whether in whole or in part, unless expressly permitted by Bdvisa.
Bdvisa welcomes requests for permission to use the content or materials provided on this site. Permission will be granted on a case-by-case basis and interested parties are kindly requested to direct their enquiries by email to info@bdvisa.com
Privacy Policy
Consent to the handling of Personal Information
We do not collect any user personal information that the user has not explicitly given permission or consent to. We use the information we collect to contact you, fulfill your requests for our services and information, send you promotional materials from us, or for any other purposes disclosed to you at the time we collect your information or pursuant to your consent. You may opt out of our promotional email newsletters by clicking the "unsubscribe" at the bottom of each newsletter.
Upon registration, you are required to fill in your information (such as name, email address, birth date, gender, zip code, phone number, occupation, industry and personal interests). The purpose for collecting such information is to enable us to serve you better. Bdvisa does not rent, sell, or share your personal information with other party or non-affiliated companies except to provide products or services you have requested.
Bdvisa may collect information about your activities on this website and other Bdvisa's online activities. The information collected will be used for our internal analysis of online activities while enabling us to provide you with better information that you may be interested in. We provide the information collected to our marketing partners who work on behalf of Bdvisa under confidentiality agreements. These companies may use your personal information to assist us in updating you about our offers and promotions. However, these companies do not have any independent right to use or share the information collected.
No Return OR Refund Policy
Bdvisa maintains a strict no-return or refund policy once a product has been purchased. You may, however, appeal for a refund for exceptional cases only. All appeals shall be assessed on a case by case situation.
To lodge an appeal, kindly contact us on info@bdvisa.com
Governing Law and Jurisdiction
The terms and the provision of products and services by Bdvisa or Bdvisa's Affiliate shall be governed by and construed in accordance with the laws of Bangladesh without reference to Bangladesh conflict of laws rules or forum non conveniens, and any dispute arising out of the terms shall exclusively be submitted to the jurisdiction of the competent courts in Bangladesh.
Severability
If any of the terms of this agreement become invalid, illegal or unenforceable in any respect under the law, the validity, legality and enforceability of the remaining terms shall not in any way be affected or impaired.
Waiver
No delay by Bdvisa in enforcing its right shall operate as a waiver as to its right and Bdvisa may pursue further action as it deems fit.
Visa Wherever you want
How to apply for your visa
Our Branches
Kolkata-
1st Floor, Plot No. 15
(Infinium Digi Space)
CP Block, Sector 5, Salt Lake,
Kolkata - 700091
Email: info@bdvisa.com
Telephone: +91-7289000071
Siliguri-
Sonali Bank White House 304/3 ,
Sevoke Road, P.S: SILIGURI - 734001
Form Filling Centre at Siliguri-
Shop No. 30 & 31,
2nd Floor International Market,
Sevok Road (Near Pani Tanki More).
Siliguri - 734001